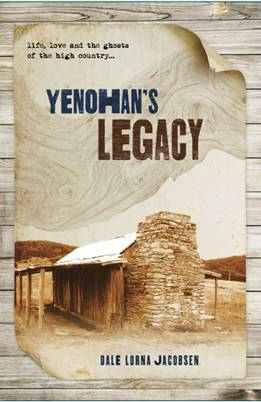 UPDATE:
Dale reports back,
My publisher, Horizon Publishing Group, has just completed the annual report for sales for my book, Yenohan's Legacy. They tell me that the donation due to KHA (which was the 'charity' I nominated) will receive $382. I am chuffed about this. Just wish there had been more sales, and hence more donation to the wonderful KHA.
Thank you very much Dale!
"Yenohan's Legacy is a fascinating mix of adventure and history and follows a young woman whose life changes over the course of a weekend as she helps restore a hut in the High Country. Haunted by ghosts of previous occupants, Fran is drawn to their stories and seeks the truth - and also finds love in the process."

- Anne Brown, Rosetta Books, Maleny
Back in 1999, I happened to be camping at Mount Clear with my partner, Doug Eaton. We were on the run from the Queensland summer heat, and found beautiful frosty mornings in the High Country, so we stayed. Late one Friday afternoon, a bloke rolled in to the campground, and began sorting carpenter's tools in his pack. Both Doug and I are woodworkers, and had itchy fingers, so we introduced ourselves to Chas Reid, who mentioned he was preparing for a work party at Westermans Hut, not far from the campground. We inveigled our way into that work party and met some wonderful people, including Maurice Sexton.
During that weekend, I learnt the story of the Westerman family, and my writer's imagination did the rest. For the next few years, I used their story as a basis for a novel, but also needed to include the fact that an Aboriginal family must have lived there before European settlement. I spent a week with Maurice and Mary, visiting the site in detail, delving into records at the National Library of Australia, and visiting Daphne and Colin Curtis to find out, first hand, what it was like to live and work in what is now Namadgi National Park. I also made contact with the Traditional Owners of the area.
The result is Yenohan's Legacy, a novel about a thirty-something chisel-wielding woman who takes part in a KHA work party (sound familiar?), the Thompson pioneering family, and Yenohan, a young aboriginal woman who befriends the daughter of the Thompsons.
The book was published in 2013 by Horizon Publishing Group who will be donating $1 from the sale of each book to KHA. It can be purchased from most good book shops, including Paperchain Bookshop, Manuka.
Dale Jacobsen
"I owe heaps to people like Maurice Sexton, Chas Reid and the Curtis family for helping me gather information. The novel is getting pretty good reviews so far, I am pleased to say. The important thing is that my publisher, Horizon Publishing Group, is DONATING $1 FROM EACH BOOK SALE TO THE KHA".
Cost is $30 and any orders placed before Xmas, and I will post free to anywhere in Australia.