From our sister organisation down south, The Victorian High Country Huts Association
The VHCHA have produced a 2017 Huts Calendar
You can purchase these from their store by clicking on the folowing link:
"VHCHA - Huts Merchandise Store"
---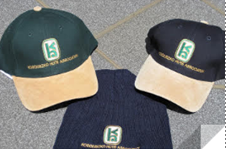 For sale:
| | |
| --- | --- |
| Green or Blue Caps | $15 |
| 100% wool beanies - nice and warm! | $20 |
Postage: $8.50
To order phone Bob Moon on 0419713964 or email This email address is being protected from spambots. You need JavaScript enabled to view it.
---
Bob Guy - musician and KHA committee member - has written and performs this song in appreciation of Bob Hughes, the builder of 4 Mile Hut.
---
Your President received the following email that may be of interest to some KHA members:
Hi
My name is Jennifer Smart. I am undertaking a research study investigating visitors' use of the backcountry and wilderness areas of Kosciuszko National Park during the snow season. This includes those who are skiing or riding outside of the resort boundaries.
I was hoping you could pass onto your members, information about the survey and if they have been on a backcountry trip this snow season in KNP I would appreciate if they can please complete this survey by clicking on the following link:
Completion of the survey gives people the chance to go in the draw to win the following prizes:
1 x NSW All Parks Pass
3 x Hire Vouchers from Rhythm Snowsports
1 x day pack from Mont Adventure Equipment
I also need your help to spread the word…
Please tell your friends and colleagues who have or are going backcountry this snow season to please complete the survey. They can do it on computers, tablets and phones. If using a iPhone or iPad make sure you have the latest iOS 9.3.4. Your survey response is confidential and the data de-identified. I have attached a flyer as a method of promoting the survey.
This research project is being undertaken towards a honours program with the School of Business and Tourism at Southern Cross University. The SCU Ethics Approval number is ECN-16-202. The research project is under the supervision of Dr Pascal Scherrer and Dr Mieke Witsel at Southern Cross University and Dr Isabelle Wolf from National Parks and Wildlife Service (Research and Analysis Officer, Hurstville).
If you would like further information contact me at This email address is being protected from spambots. You need JavaScript enabled to view it. or on 0405720143 or my supervisor This email address is being protected from spambots. You need JavaScript enabled to view it..
Thank you, I appreciate your time.
Regards
Jennifer Smart
---